What Exactly Is a "V-Shaped Recovery?"
The question of a V-shaped recovery after the coronavirus has been dominating headlines. But what, exactly, does that mean?
It seems like everyone these days is asking the financial fortune tellers if we're on the road to a "V-shaped recovery." From leading economists to politicians, the V-shape question has dominated interviews and think pieces ever since the market sell-off in February and March 2020. Not only is the future of the coronavirus pandemic unclear, but many are wondering how long the period of economic consequences from COVID-19 may last.
But what does it mean to have a V-shaped recovery? An economic comeback seems likely, but what that may look like is unclear. There are a number of factors that could affect the economy, offering several different possibilities on how (or if) this recession continues.
ALPHABET SOUP
Economists follow the progress of a recession using measures such as real income, employment rates, gross domestic product (GDP), industrial production, and wholesale-retail sales. Usually economists define a recession as two consecutive quarters of economic decline; however, most experts have already declared the first quarter of 2020 the start of a recession.
After a steep downturn in these measurement charts, there are a few different labels for the way in which the economy recovers. With a V-shaped recovery, the "V" refers to a sharp decline with a short period at the bottom of the chart, followed by a strong and speedy recovery. A U-shaped recovery is similar, but with a trough that isn't clearly defined and a longer recovery period.
The surprising W-shaped recovery, also known as a "double-dip recession," is when the economy falls into a recession, recovers quickly, then falls into another recession before recovering again. Finally, an L-shaped recovery indicates a severe recession that takes many years to recover, if at all.
THE CORONAVIRUS COMPONENT
The markets had enjoyed a prosperous bull market since 2009, which means many economists were already predicting an impending bear market since 2019. However, by the end of that year, fears about the spread of COVID-19 began to influence the market predictions, followed swiftly by widespread mandates to shut down many business operations. Pinning economic progress to just one component is problematic, but certainly COVID-19 is the most influential factor in the economy for the foreseeable future.
The shape of the recovery depends on quite a few circumstances that are still undetermined. To start, business shutdowns mean there are skyrocketing numbers of unemployment. While some industries may be able to return to work once the stay-at-home mandates ease, many businesses may never fully recover. Some businesses may even restructure their operations with fewer employees than before. Moreover, it's too early to measure the number of bankruptcies, as they can take several months to process.
Even when people are allowed to return to work, millions will have lost wages and many may have had to find new jobs in other industries and/or with lower pay. That could make people cautious about spending too much money too quickly. A boom in some sectors is possible as people are eager to enjoy restaurants, entertainment, or other luxuries they couldn't before; however, exactly how much consumers will want to spend post-quarantine is undefined.
On the other hand, optimists do have a few reasons to be hopeful. Although there isn't currently a cure for COVID-19, researchers are predicting that there is one on its way. For investors, that means anxiety about returning to public spaces may only exist in the short term. Moreover, awareness about COVID-19 is at an all-time high, meaning many governments are making active efforts to prevent further economic deterioration rather than neglecting any more ramifications. The efficacy of these efforts, however, remain to be seen.
Because of these pending factors, it's too early to tell if the recovery will be V-shaped, U-shaped, or otherwise. The coronavirus pandemic has led us through uncharted territory so far, but that doesn't mean the recovery has to be too far out of reach.
"Don't panic. This, too, shall pass."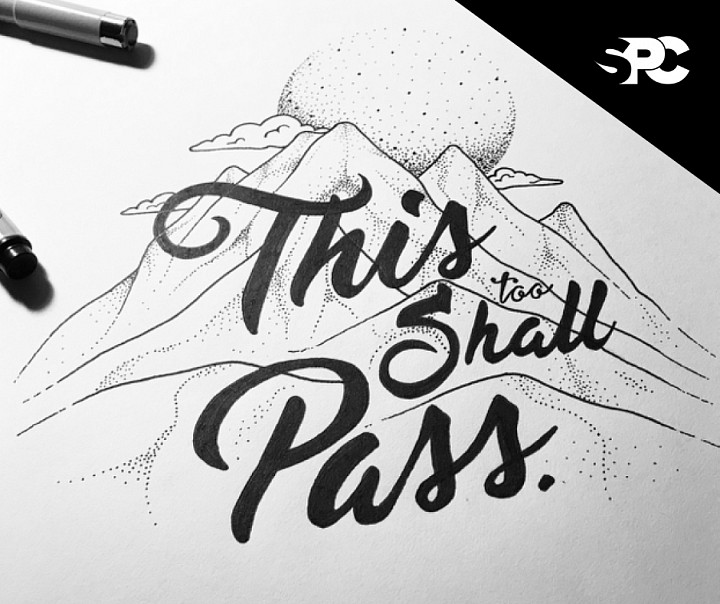 Image Credit: Pat Huck
You should consult your own tax, legal and accounting advisors before engaging in any transactions. This material has been prepared for informational purposes only, and is not intended to provide, and should not be relied on for, tax, legal or accounting advice.
Nothing in this communication shall constitute a solicitation or recommendation to buy or sell a particular security. Accordingly, no representation or warranty, expressed or implied, is made as to, and no reliance should be placed on, the fairness, accuracy, completeness or timeliness of the information contained herein.
Securities are offered through Score Priority Corp. Member FINRA/NFA/SIPC.