New Feature: Dynamic Watch List
Fellow Traders,
We're glad to present you our new feature available in your trading feed - Watch List: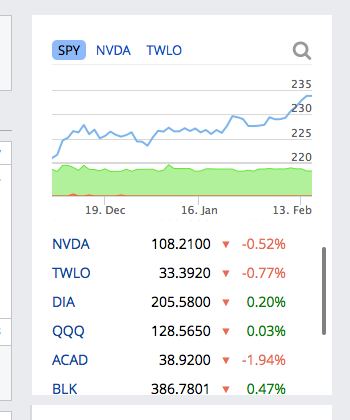 As you know, we aggregate great amount of valuable anonymized information from real trading accounts in order to analyze how many people are actually buying or selling the stock at the moment - we consider this as a predictive indicator, it's much more powerful than a pure sentiment analysis. We included this data into the watch list, so 'green' and 'red' zones on the chart show the relative number of long and short positions opened. 
This is a dynamic watch list, we always analyze what user is reading in the trading feed and we automatically add the most interesting for you stocks. First three stocks in this watch list are fixed: those are the most recent stocks you have been watching or searching for. Three tabs on top allow you to navigate inside your personalized watch list.  
We have a few more features coming soon so stay tuned!
Happy Trading!