Hindsight is 2020: Market Structure Trends Then & Now (Virtual Panel)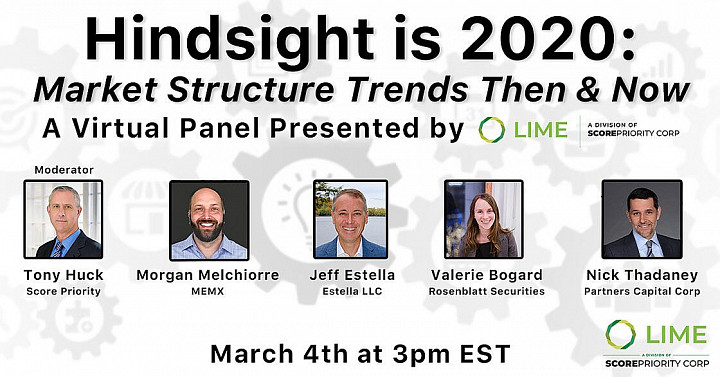 You are invited to attend a live, virtual panel presented by Score Priority, a financial technology and brokerage firm, on Thursday, March 4, at 2pm CST:
Hindsight is 2020: Market Structure Trends Then & Now
Market structure dynamics have changed amid a boom in trading. 2020 saw an influx of new retail participants, enabled by increased/simplified access to markets and lowered costs. A prolonged, heightened period of volatility provoked adjustments to both monetary and fiscal policy that, in sum, sent institutions back to the quantitative drawing board. Meanwhile, three more equity exchanges debuted. In this landscape, how are market participants of all types deploying the array of tools at their disposal? How has the past year's tumult altered the road ahead for innovation in trading technology? Join us for a discussion with the pioneers of electronic trading on how they are catering and adapting to their clients' needs in ever-faster and fragmented markets.
Moderator: Tony Huck, Score Priority
Panelists:
This virtual panel is free to attend and will be 60 minutes in length, including a 10 minute Q&A session at the end.
To register via Zoom, please click here. Should you have any questions, please feel free to contact Lorna Kiewert (lorna@3ptscomm.com).
We look forward to you joining us!